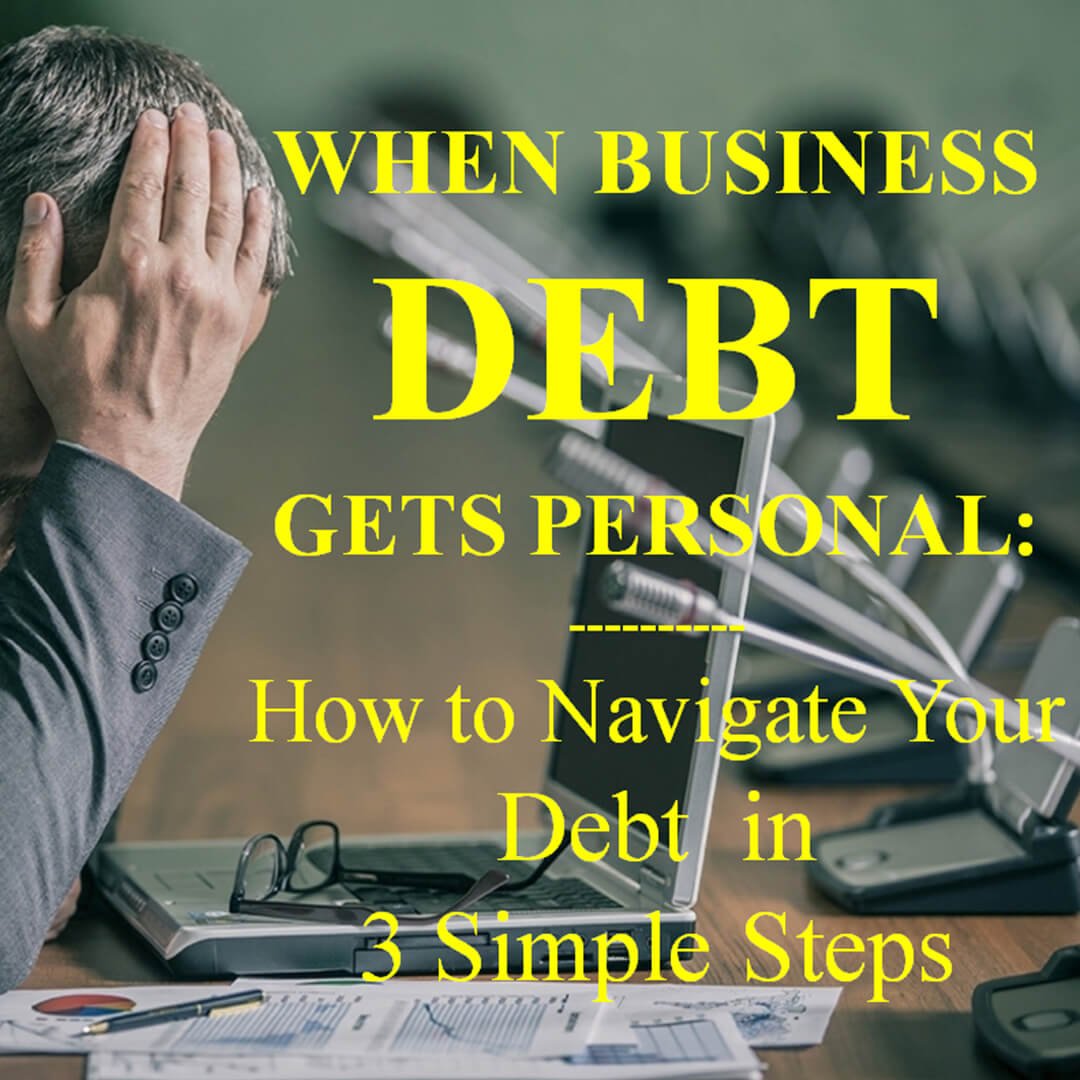 How to navigate your debt in 3 simple steps
My first few business ventures were neat, tidy and fully funded by investors, which kept me out of debt as a 20-something entrepreneur. 
Thankfully, one of those ventures grew to become a sports media company worth millions. But even that didn't keep me out of debt forever.
My worst debt experience came after the terrorist attacks of 9/11, when I went from high-flying co-founder to jobless guy buried in debt, after the Nasdaq company that bought our firm began cutting costs – starting with me.
I quickly learned about debt, both personal and business-related, as I struggled to recover and then to fund ventures out of my own pocket or via personal debt. I later worked in the debt-settlement industry, where I learned even more about debt, including why debt programs fail more often than diet or exercise plans!   
Let me explain how and why this might matter to you.
GOOD DEBT VS. BAD DEBT
I recently wrote the book, Debt-Free ASAP!  But I don't believe all debt is bad.  And I don't promote a cash-only lifestyle or business outlook, either.  The truth is that using low interest debt to fund or leverage tax advantaged or appreciating assets or promising business ventures – or even mere survival – can be smart, essential or both.  The key of course is discerning the difference between good and bad debt.
I once borrowed against college funds given by a grandparent to one of my children to secure a low interest credit line that ultimately helped produce a million dollars' worth of revenue in my real estate company.  That credit line was smart, essential and it helped me recover from the Great Recession.  It was good debt. 
I must admit that I have also maxed out high-interest credit cards to fund long-shot start-ups, including a feature film production company that failed miserably.  I should have seen that bad debt from a mile away, starting with the words high-interest credit cards!  But I was too emotionally invested to notice the toxic combination of high interest debt and a high risk venture, and it took me several years to recover.
If you're not exactly sure how to distinguish good debt from bad (before seeing the results) don't worry, this next guideline will help.
EVERYTHING DEPENDS ON EVERYTHING
Should you mortgage your house to cover payroll?  Should you max out a few credit cards to buy some needed equipment, start a new business or handle an emergency?  Should you attempt to negotiate debt settlements or consider bankruptcy or apply for a government loan to keep your doors open or recover from the Pandemic?
It depends.  Everything depends on everything.
This is why so many debt programs fail, because cookie-cutter programs, simplistic answers and dogmatic opinions from famous experts simply do not cut it.  This applies to everyone from debt-riddled seniors trying to survive on social security income to big-time (or small town) business owners trying to deal with their debt.
In my book I recount conversations with people from every background struggling with debt and usually asking, "What should I do?"  This is when unscrupulous scammers and fast-talking closers slam them into their programs, rather than assess their needs, review their options and direct them toward their best possible solutions.
Businesspeople may not even stop to ask, for any number of reasons including embarrassment or distraction, and they can make costly mistakes on their own as a result.  This can mean taking on inadvisable debt or failing to address their existing debt in the most strategic way.
Either way the correct answer to the debt question above, whether asked out loud or left unspoken is, "It depends!"
This answer recognizes that every person's situation, no matter how simple or straightforward, has its own set of circumstances and variables that warrant some kind of consultation or review of possible solutions.  And this applies even more to the complex interests and obligations of a business owner or professional.
MEET THE ASAP PROTOCOL
Here is the 3-step protocol I recommend to anyone struggling with debt:
Assess your situation. Take a good look at your debt load, P&L, net worth and FICO score, along with your circumstances, mindset and vision for the future.
Review a full range of proven debt solutions to select the best possible approach for your situation.
Create a plan, and make sure it includes the support you need to succeed.
I believe this consultative approach is the ultimate way to address both good debt and bad, and that it can guide you to both personal and professional success.
——————————
John Nicholas is America's Breakthrough Debt-Recovery Coach thanks to his Amazon #1 New Release book and the free and affordable resources he offers through his website, Debt-FreeASAP.com.